Sent to you by Vachak via Google Reader:
via Healthy Eating by Sean Kelley on 9/22/08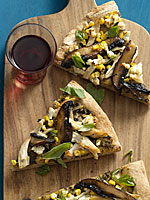 Our Chicken and Goat Cheese Pizza With Fresh Herbs recipe provides lean protein and heart-healthy fat. Want to use fresh dough? Get some from your local pizzeria.
Prep: 5 minutes
Cook: 22 minutes
Makes 4 servings
Ingredients:
Vegetable cooking spray
1 pound whole-wheat pizza dough
1/2 cup (1/2-inch-thick slices) portobello mushrooms
1/8 teaspoon kosher salt
1/4 cup bottled pesto
1/4 teaspoon freshly ground black pepper
3/4 cup skinless, boneless, shredded rotisserie chicken
1/2 cup fresh sweet corn kernels
2 ounces goat cheese, crumbled
2 tablespoons chopped fresh basil
Instructions:
1. Preheat oven to 425°.
2. Lightly coat a round perforated pan with vegetable cooking spray, or put a pizza stone in the oven while it preheats. Place pizza dough on a lightly floured surface, and roll it into a 12-inch circle. Place dough on prepared pizza pan or stone, and bake for 5 minutes.
3. While the crust is baking, coat a small nonstick skillet with vegetable cooking spray and heat over medium-high heat. Add the mushrooms and salt, and cook, stirring occasionally, 4–5 minutes or until softened and lightly browned; set aside.
4. Spread the pesto over warm crust, leaving a 1/2-inch edge. Sprinkle pepper evenly over crust, and top with chicken, corn, mushrooms, and goat cheese. Bake 12–15 minutes or until crust is cooked through and cheese is golden brown. Remove from oven, and sprinkle with basil. Cut into 8 wedges; serve hot. (Serving size: 2 slices pizza)
Nutrition:
Calories 395; Fat 11g (sat 3g, mono 3g, poly 4g); Cholesterol 30mg; Protein 20g; Carbohydrate 55g; Sugars 3g; Fiber 6g; Iron 4mg; Sodium 428mg; Calcium 73mg
Recipe by Laura Zapalowski
PHOTO: YUNHEE KIM