Sent to you by Vachak via Google Reader:
via Healthy Eating by Sean Kelley on 9/22/08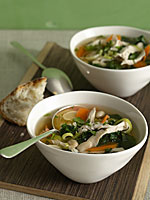 This delicious Chicken and White Bean Soup With Greens tastes like it's been simmering for hours—actual recipe cook time: 18 minutes.
Prep: 7 minutes
Cook: 18 minutes
Makes 6 servings
Ingredients:
1 tablespoon olive oil
1 1/4 cups thinly sliced leeks, white part only
1 large garlic clove, crushed
1/2 cup (1/4-inch-thick) slices carrot
6 cups reduced-sodium, fat-free chicken broth
1 1/2 cups skinless, boneless, shredded, rotisserie chicken
One 2-inch fresh rosemary sprig
One 19-ounce can cannellini beans, rinsed and drained
1 cup packed roughly chopped fresh kale
1 cup packed baby spinach
1/4 teaspoon salt
1/4 teaspoon freshly ground black pepper
1 tablespoon chopped fresh parsley
Instructions:
1. Heat oil in a stockpot or Dutch oven over medium heat. Add leeks and garlic; cook, stirring occasionally, 3–4 minutes or until tender but not browned. Add carrots, and cook, stirring for 1 minute. Add broth, chicken, and rosemary; bring to a boil. Reduce heat, and simmer 5 minutes, skimming occasionally.
2. Add beans and kale, and simmer for about 5 minutes more. Add spinach, and cook 2–3 minutes more or until tender. Season with salt and pepper.
3. Remove rosemary sprig and garlic clove. Ladle soup into 6 warm bowls; sprinkle each with 1/2 teaspoon parsley. (Serving size: 1 1/3 cups)
Nutrition:
Calories 209; Fat 6g (sat 1g, mono 3g, poly 1g); Cholesterol 30mg; Protein 20g; Carbohydrate 21g; Sugars 2g; Fiber 5g; Iron 3mg; Sodium 259mg; Calcium 80mg
Recipe by Laura Zapalowski
PHOTO: YUNHEE KIM