Sent to you by Manu via Google Reader:
via Healthy Eating by Sean Kelley on 10/9/08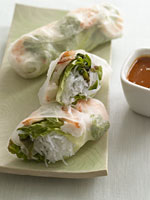 Recipe by Tammy Huynh, chef at Bong Su Restaurant in San Francisco
From Health magazine
This chile-peanut sauce recipe has a perfect balance of sweet and spicy flavors to complement our Vietnamese Spring Rolls.
Ingredients:
1 teaspoon canola oil
1/3 teaspoon chopped garlic (about 1/2 clove)
2 teaspoons chile paste with garlic (such as Sambal Oelek)
2/3 cup water
2 tablespoons hoisin sauce
2 tablespoons rice wine vinegar
3 tablespoons low-sodium soy sauce
1/3 cup creamy peanut butter
Instructions:
1. Heat oil in a saucepan over medium heat. Add garlic, and sauté about 1 minute. Add remaining ingredients; whisk until smooth. Reduce heat to low, and cook for 2–3 minutes. Remove from heat; set aside until ready to use.